Moyo Honey Tops December Digital Selected Sale, Concludes Spectacular First Year for Fasig-Tipton Digital Platform
Wednesday, December 14, 2022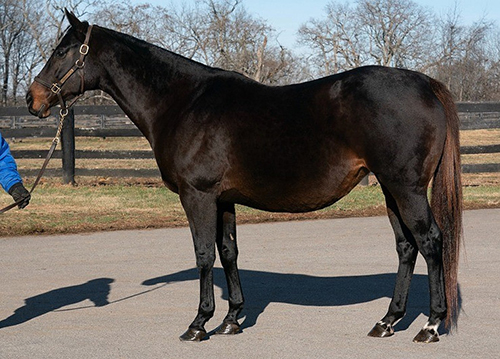 The December Digital Selected Sale – Fasig-Tipton's largest digital sale to date and its final scheduled sale of the year – closed Tuesday afternoon with 97 horses sold for more than $1,900,000 gross. Offerings included breeding stock, horses of racing age, and yearlings.
Moyo Honey (Hip 2), in foal to leading second-crop sire Gun Runner, sold for $340,000 as the sale's highest-priced offering. Elicia Rankin purchased the graded stakes placed daughter of Mizzen Mast from the consignment of Paramount Sales, agent.
Rankin credits her daughter, owner Gayla Rankin, with encouraging her to get into Thoroughbred ownership and for introducing her to Fasig-Tipton Digital. "It was very easy to use," Rankin said of the platform. "I'm extremely pleased with my purchase."
Other notable buyers were MWG LLC, striking for 14 lots for a total of $202,500, and the partnership of Gary Broad and Town & Country Farms, who purchased mares for their new stallion Pinehurst.  They purchased Pinehurst himself last month on Fasig-Tipton Digital. (Read more: G1SW Pinehurst Sells on Fasig Digital, to Stand at Walmac.)
Shannon Potter of Town and Country said, "We were very happy to be able to find some quality mares on Fasig Digital to support our new stallion Pinehurst. I think Leif and the Fasig-Tipton team did a wonderful job recruiting some quality product for availability to purchase this time of year."
Rounding out the sale's top five offerings were:
Carrie Brogden of Machmer Hall commented, "Mark my words, I will try to sell all of our reasonably priced pregnant mares in digital sales. The difference in stress and risk to pregnancy is astonishing and I am already thrilled with the pricing."
Overall, 97 horses sold for $1,909,200. The RNA rate was just 19%. Registered bidders numbered 358, with a total of 2,535 bids placed on the 129 horses offered. The Digital platform hosted more than 30,000 views from December 8 through December 13.
"The December Digital Selected Sale was our largest digital catalogue to date, and it marked the close of an incredibly successful year for the Digital platform," said Fasig-Tipton Director of Digital Sales Leif Aaron. "Buyers and sellers have been very supportive of Fasig-Tipton Digital, we've sold 279 horses in our first year to the tune of around $10 million. We still have work to do but this first year has shown us that there is a need for this segment of the horse business and we look forward to expanding upon that success in 2023.  This is just the beginning for Fasig-Tipton Digital."
Full results for all Fasig-Tipton Digital sales are available online.
Nominations are now being accepted for the March Digital Sale, to be held March 2-7, 2023. The scheduled 2023 sales calendar is available online.
For further information:
Leif Aaron
859-255-1555